Hardcore QueenSnake Porn
Today's QueenSnake scene has your naughty slender woman submitting herself to some more torture treatment for your viewing pleasure. Today she thought it was time for her to be all tied up once again and leave another person to flog her naughty body. So yeah, in this one you get to see this impressive woman getting whipped as she's all tied up. And we would say that you should be amazed, but by now that's kind of useless as you've seen her previous pics , and you know that this woman just loves the abusive treatment.
So as the shooting starts she asks to be all tied up and left hanging in the air. She then had a friend of hers grab a flail and ordered her to start hitting her with it. So without further due, enjoy the brown haired slut as she gets her fantasy fulfilled by her buddy as she does a nice job of whipping her. As you know , the pain only served to turn our woman on even more. And before long she was also reaching for her pussy to masturbate as she was getting punished harshly this time. Enjoy her scene guys and come back next week for more.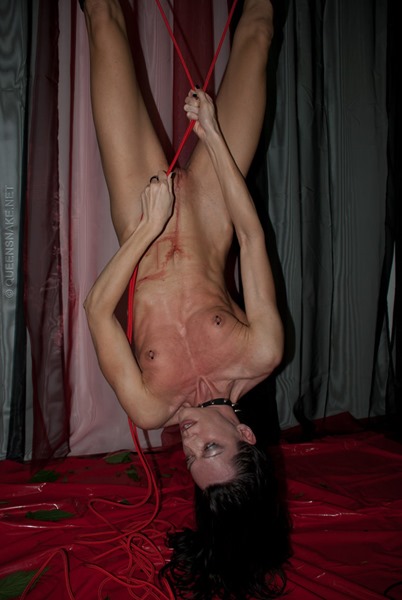 Watch this babe getting tied and whipped!